WHERE DO YOU SEE YOURSELF IN 5 YEARS? (The PERFECT Answer to this Common Interview QUESTION!)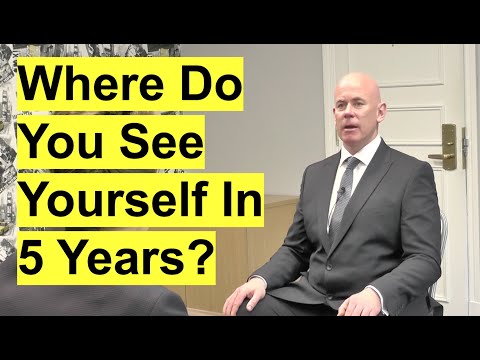 PRESS TO DOWNLOAD:
— Handwritten subtitles
— Generated subtitles
Start Reading:
Where do you see yourself in 5 years' time?  In 5 years' time from now, I strongly believe   I will be still working for your organization. I  aim to be a high performing and productive member   of your team, somebody who can be relied upon  to achieve tasks on time and to a high standard.   I would also be open to perhaps progression  within the organization if you see me as a fit,   of course. I see myself as somebody who's  competent in the role, somebody who's enthusiastic   and keen to progress within the organization. And  finally, I would also be open to helping train up   new members of staff who join your organization  in similar roles to this one. I feel I will   be able to use my experience and expertise to  help train up new members of staff. I am sure   you will agree that, that was a brilliant answer  to that common interview question: WHERE DO YOU   SEE YOURSELF IN 5 YEARS? Would you like a copy  of that answer script? If the answer is yes,   stay tuned for just one minute longer, because  I will give you the exact script to use when   answering the question, where do you see yourself  in five years? But let me quickly, first of all,   give you 3 really important tips for answering  this question correctly.