[아이유의 집콕시그널] 아이유의 팔레트 Ep.1 (With 적재)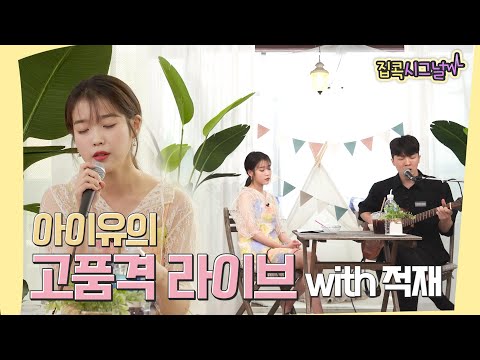 PRESS TO DOWNLOAD:
— Handwritten subtitles
— Generated subtitles
Start Reading:
(A gust of fast talk) I bet it's 'Love of B' (Closing his eyes) Give him tissues Talking about it (What happened to JUKJAE?) When I talk about it Colorful I didn't expect this to happen today I didn't expect to eat naengmyeon here We're so random I love it For this...! This should be made into a section of the show (A birth of a section after Sloppy Live?) I'll just invite all the musicians (A birth of a section after Sloppy Live?) who I love for this show (Homebody Signal) 51.6 MHz IU's Homebody Signal Hi It's been a while, everyone This place looks different, right? It got bigger I came to check this place out Today I'm here to check this larger place out Isn't it nicer with the wider view? It feels very pleasant in here Today, I'll be doing something new Since the studio got better and all, I prepared something different In Homebody Signal, the most popular show is Sloppy Live But this will be like an extra episode I wanted to do a classy live show So I invited an amazing guest to the show Let's have him come in right away Come on out~! (Who is this guest she's greeting with a big smile on her face?) So abrupt (Homebody Signal) - Hi - Yay JUKJAE It's nice to be here (JUKJAE, a guitarist and singer-songwriter) Long time no see - How have you been? - Of course How have you been? Update us I just finished Beginagain You are hosting a radio show as well Right (Hosting JUKJAE's Night Time Studio) It's called an audio show How long have you been hosting it? It's been about.