[아이유의 팔레트] 팔레트에 '있지' (With ITZY) Ep.4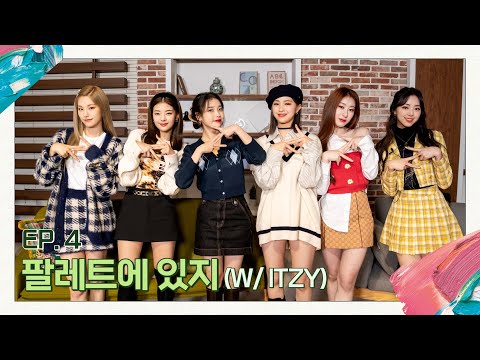 PRESS TO DOWNLOAD:
— Handwritten subtitles
— Generated subtitles
Start Reading:
(IU's Palette) Hello, everyone Welcome to IU's Palette I'm IU, the host of the show, it's nice to see you (Startled) I haven't introduced today's guest yet But I'm sure you've noticed that many people are here already I guess it's the most crowded Palette I've ever hosted Like Loco last time, I invited an unlikely guest who is not really intimate with me That's why I'm especially excited and look forward to the show today Today's guest is ITZY, please welcome Hello Hello Please say hello to the viewers of the show All right 2, 3 All in us, hello, we're ITZY (IU and ITZY don't have any personal connections) This is our first time meeting each other, isn't it? Yes How could we not even run into each other? I've been watching you only on TV So have we One of our staff told me that you recommended some of my songs to your fans including my albums Thank you for that You're welcome As you were coming, I looked up some videos about you V LIVE and... You look extremely excited I also watched your personnel channel And I thought, 'There's no hierarchy' between the members' That's what I thought The teams showing great teamwork like you have something in common There's no hierarchy between the members I think that's the heart of long-lasting teamwork And as I was watching your videos, I assumed you feel very comfortable with each other, am I right? Yes, you're right We've spent 3 years together since we were trainees We were close from the beginning By living together and performing together as a team, we got to know each other even better than before I think that's why we became even closer You look like good friends with each other I think that's why you've always showed perfect harmony on stage - Thank you - You're welcome I'm going to have a brief interview with each member from now on I'll start off with the leader YEJI - Hello - Hello I didn't know that - you're the leader of the team - I am Because of your appearance, I thought, - 'She might be the youngest' - Did you? Thanks But actually you're the leader It means you're the oldest member of the team? Yes, I am When is your birthday? LIA and I are nearly the same age I was born 2 months earlier than her When were you born? - In May - Me, too (She was born in May, too!) So, the other members, tell me What kind of leader is she? She's the reason why there's no hierarchy in our team (That sounds a little strange) - Does she make a comfortable mood? - Yes 'Let's become friends with each other' - That's what she does - All right She treats you as friends In which situation does she show her charisma as a leader? Every time I monitor our performances, I look at her in admiration (Did I laugh too loud?) Because she looks totally different when she performs on stage I think I know what you meant She looks furious Right She looks furious The difference between YEJI on-stage and off-stage is huge All right I felt that, too Thank you All right, my next question is for - LIA - Okay LIA and YEJI are the same age - You're one of the oldest members - Right I heard LIA is the member - who loves mint chocolate the most - Right Who else? You all love mint chocolate? 3 of you don't like mint chocolate Well, I can eat it, but I'm not a huge fan Okay, you can eat it at least It looks like CHAERYEONG is obviously against mint chocolate As you're a fan of mint chocolate, I'll try to enjoy it, too From today Among the video clips about LIA, a video caught my attention You know, 'You Heeyeol's Sketchbook' A sister program of this show (Burst into laughter) LIA was singing Jessie J's <Price Tag> in that video Her voice sounded so attractive Thank you I was fascinated by her in that video (LIA revealed her attractive voice through the show) (LIA, a singer with an outstanding voice) I love R&B and Jazz I could feel that You know, your music is very rhythmical and good to dance But when I saw you singing jazzy, I thought, 'Wow, she's a talented vocalist' - That's what I thought - Thank you I also heard that you're a huge fan of great audio systems Well, not quite 'huge', but it's true that I love listening to music I've always wanted to collect vinyl records since I was younger My dad helped me choose a good audio system He wanted to buy one of your albums Yes, 'A Flower Bookmark' was released on vinyl He searched it hard, but he failed to get one As the price has increased That's what he told me a few days ago He loves your music He plays your music when he's driving - Really? - Yes Say thank you to your dad LIA's dad, thank you Thank you for enjoying my music If I have a chance to get a 'A Flower Bookmark' vinyl, I'll - contact you right away - Thank you Thank you, LIA's dad I appreciate that (A good daughter, LIA) He'll be delighted Okay, next question is for RYUJIN I had rooted for you since I saw you on a program called 'MIXNINE' Really? And you finally debuted as a member of ITZY I thought, 'Wow, she finally debuted' 'I'm happy for her' You're a versatile member on your team 1.