[아이유의 집콕시그널] 세계최초 엉망진창 라이브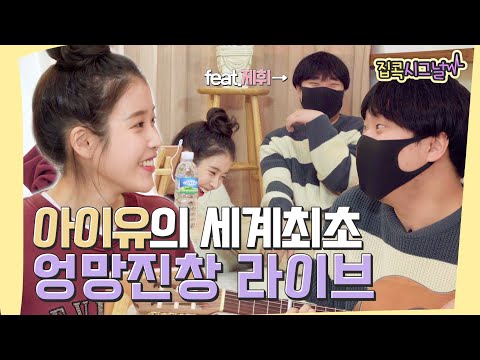 PRESS TO DOWNLOAD:
— Handwritten subtitles
— Generated subtitles
Start Reading:
Frequency 51.6MHz IU's Homebody Signal Hi Hi Hi I shouldn't do that again next week (Homebody Signal) We appear when you are about to forget us, this is IU's Homebody Signal I know this is pretty abrupt Social distancing campaign continues to be part of our daily lives If you could describe April in one word, what would it be? For me, I'd say it's a lie It really feels like a life that half of April has passed already I can't believe it Next month is May already My birthday is in May (Important) My birthday is in May I can't believe May, the month of my birthday, is next month Half of this year has already passed already I didn't really do much It really feels like a lie So for those of you who feel the same, we came back this week Let me tell you what we'll do with UAENA today It's me There's nothing else for today's episode It'll just be about me Not so long ago, we ran a survey about this through EDAM's official Instagram account Which of IU's voice would you want to listen to? Live and ASMR were the choices The results were shocking It won 77% of the votes Live won by far I have to say what a shocking result that is It's because I thought ASMR would win for sure so we prepared a lot of things we could do with ASMR But live won It's not like I can rig the result We did Lee Jigeum's ASMR about 3 years ago, which many people liked If I were to do it now, I can do a much better job Our producer too? Hey, me too Hey, me too Before the word live, I didn't write high quality amazing or such words I wanted to emphasize that this will be a light-hearted live So I'm just dressed casually When I look at myself in the mirror after I tie my hair up, I look exactly like that guy Kim Sung-kyu from Kingdom We have the same hairstyle He has right here a topknot This is how my hair looks everyday So today I just wanted to show this side of myself (Stay at Home Signal) We had to prepare quickly for the live show so yesterday night we invited a guest He'll help us with this clumsy live show Let me introduce to you Mr.