대구 동네 숨은맛집 이래요😲 생고기 10접시 먹방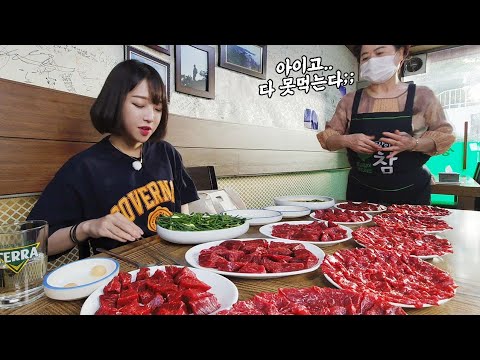 PRESS TO DOWNLOAD:
— Handwritten subtitles
— Generated subtitles
Start Reading:
[Daegu Mungtigi (sliced raw beef)] Did you just say you are going to eat 10 servings of raw meat by yourself? Holy moly This is totally different from regular yukhoe (Korean-style tartare) Wow, excuse me, this is incredible Is that your 8th plate? Can I also get 1 order of regular yukhoe, please? Hello everyone~ I'm here in Daegu to try mungtigi (sliced raw beef) since it's very popular here It's like a hole in the wall restaurant Most of the restaurants were closed in the morning probably because it's Sunday So, I've been walking around for like 4-5 hours and found this place I'm very hungry right now Let's head inside [Song-lim Sikdang, Dong county, city of Daegu] Excuse me, can I get 10 servings of raw beef please? You said 10? Did you just say 10 servings? By yourself? There's no way you can finish the whole thing! -Don't worry, ma'am. I can handle it. -You sure? Oh I think I've watched one of your videos Excuse me, ma'am. Can I also get 1 order of beef doenjang-jjigae (soy bean paste stew with beef)? Of course! Everything on the menu is delicious and won't be there if it's not Then, please give me one of that, ma'am I found this hidden restaurant on a blog and figured that it is mostly run by the regulars And I also heard that they got some special sauce that's on point.