[아이유의 팔레트] 아이유, 이승기님이 '니 곡 내 곡' 스킬을 시전하셨습니다 (With 이승기) Ep.3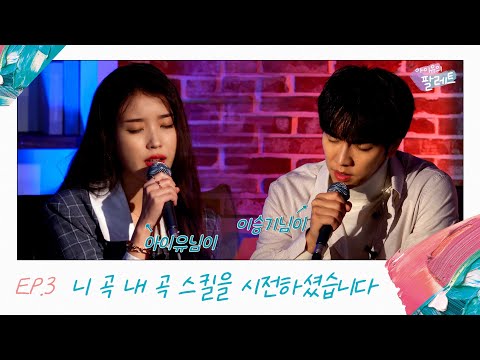 PRESS TO DOWNLOAD:
— Handwritten subtitles
— Generated subtitles
Start Reading:
(IU's Palette) (I Will) Thank you (IU's Palette) Hello, this is IU's Palette and I am MC IU Nice to meet you Today I started with a live from the opening without any additional explanation This is the first time I started this way Since everyone was waiting for this guest I didn't need a modifier for him Thank you IU's Palette What do we have to say? Can't we say viewers? - Yes, viewers - Viewer Subscribers? Viewers? I don't watch YouTube a lot but I do watch IU's Palette I'm back with my new title song 'I Will' The stage I just had - was the first live of my 7th album - First live performance Yes, this show will be released after my album is released but it's the first time I'm singing live so I hope the many fans watching IU's Palette enjoyed it - Actually - Yes Other guests - also feel that Palette is - Yeah a bit pressuring The atmosphere doesn't feel like a performance stage It's not an independent setting They have to sit on the sofa to talk and then sing So that's harder than singing in front of thousands and millions of audiences - I feel the same way - Yes, singing in front of people you know.