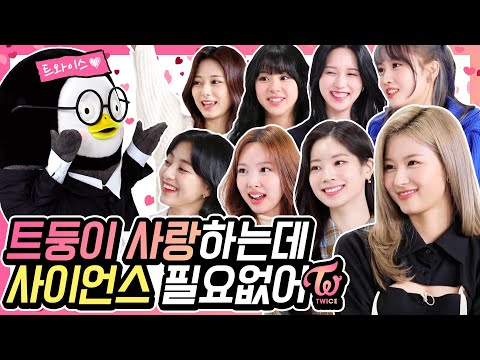 PRESS TO DOWNLOAD:
— Handwritten subtitles
— Generated subtitles
Start Reading:
Giant Peng TV! Peng Peng! Peng Peng! Everyone, we have lovely guests visiting in a while They're, TWICE! (TWICE is here) One, two, three One in a million, hello, we're TWICE (Long time no see) Wow, it's been a while (Pengsoo X TWICE came together since the last visit in April last year) Have you all been well? - Yes - Yes You can't have been well! - (Confused) Why? - Why I am here right now (Opened business 5 minutes ago) as a lawyer You were a lawyer (But why a lawyer all of a sudden?) [Pengsoo] Don't laugh, don't laugh (Serious) I don't know how to put this But you've caused a lot of trouble! - Us? - Us? Yes! (Tzuyu is confused) What trouble? Vi... [Crew] Victim! I know! (Pengsoo hasn't changed at all) [Pengsoo] Vict... (Pengsoo hasn't changed at all 2) (The cause is unknown) There are so many victims right now! You've caused a fan accident! Oh, no! (Getting a grasp of the situation) (Why did you do that, TWICE?) Why did you do that, Chaeyoung? What is a fan accident? You've gotten hit by someone as if you were in a car accident and become a fan (Even prepared evidence) I'm going to show you the black box video Black box? Look carefully to spot the problem Okay (First scene of the fan accident) Alright, this is the first video (Curious) Raise your hand if you're the star of this video (Prime suspect of this case, Tsuyu) - Tsuyu - Yes Do you know this video? Yes, I do (Reveals the evidence immediately) Alright, let's watch it together [Commentator] She's getting ready [Commentator 2] Tsuyu is the ace (Situation at the time of the accident in September 2016) [Pengsoo] Just now! - Beautiful - Beautiful (This isn't it) (An unexpected enthusiastic response) A major accident has passed by Uh-oh! Uh-oh! Uh-oh! (Until when are you going to replay it?) (Nervous, anxious) Aren't you replaying it too much? I think Pengsoo has gotten into a fan accident (Suspect Tsuyu's defense?) What do you think about this? (Tsuyu, age 23 / Suspect) Accident, it was an accident but it's a video that a lot of people watch so I like it (You're confident?) (So, we prepared this) (Reenactment of the situation) (Will she be able to prove her innocence?) - Alright, are you ready? - Yes (High five) Alright, in order to reenact the situation (Sullen) I've prepared a handheld fan (Motherly smile) (Ready to reenact the blowing hair) It's working, it's working! (Surprised by the 100% resemblance) Alright, then let's reenact that moment Are you ready? - Yes! - Alright, get ready and shoot! Okay (Shaking) Beautiful (LOL) (It's becoming clear) (The moment right before the accident) (Perfect reenactment of the fan accident) (Why is she so dazzling?) (The first self-reenactment system ever) (Embarrassed) You've caused an even bigger accident (Suspect of the <Tsugolas Accident, 2016>) (Arrested) Alright, this is the next video (Aargh!) Oh, this mouse won't work! (Struggling) (Click) Do you need help? (Dahyun lends a helping hand) (Self-hypnosis) I can do it, I can do it! Do you want this? Yes, I want it, I want it Do you want me to click it? (Pauses the video instead) Stop it? (Hold on for a second) (Dahyun has broken in without warning) (Without even a blinker?) What should I do for you? (Dangerous) (Fully responsible for the fan accident) Thank you Thank you (So cute) (Second scene of the fan accident) Alright, the next is a photo everyone (Second prime suspect, Dahyun) Dahyun! (What was the situation at the time?) What is this picture? (4th-anniversary fan meet in October 2019) It's a picture of me dancing to "TT" (Notices something) (Oh.