[Eng Sub] แค่เพื่อนครับเพื่อน BAD BUDDY SERIES | EP.3 [1/4]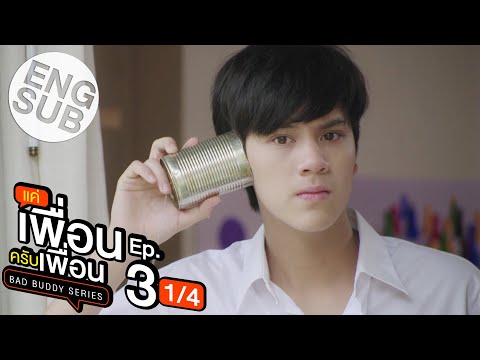 PRESS TO DOWNLOAD:
— Handwritten subtitles
— Generated subtitles
Start Reading:
This series was produced in compliance with the Disease Prevention Measures under the state's Emergency Decree. Characters, actions, occupations and events in this series are fictional and created for entertainment purposes only. They are not intended to urge or promote any behavior in the series. Viewer discretion is advised. You! Do you live here? Don't tell me this is… Right. This is my dorm. Slippery hands. Pran's mom was so furious. She transferred him somewhere else. I'll move here. No! I'm not going. Go. I'm staying here. (Don't you know that we can't fight here?) (Whoever fights here will be banned by seniors.) Take it easy there. This is so tough. I wonder how Fongbeer can do it. One hour for one song. Stop using your head. Sometimes, you have to use your heart. Bring out your inner feelings. Take Pat Klear for example. She tells stories of her life through songs. And they're fantastic. My life isn't as colorful as hers. Can I borrow this? Recall your memories. Have you not had a secret crush on anyone before? Shit! What's the matter? I forgot my guitar pick.