Le graffe dello Chalet Ciro: ricetta originale senza patate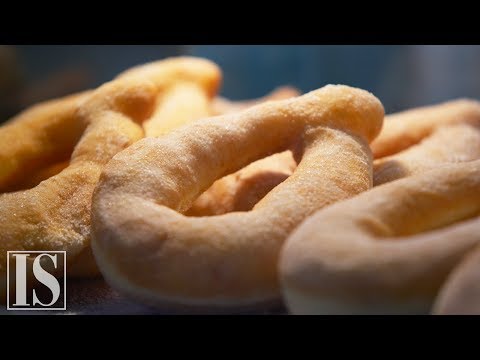 PRESS TO DOWNLOAD:
— Handwritten subtitles
— Generated subtitles
Start Reading:
Hi, good morning! I'm Francesco Amoroso, pastry chef in Chalet Ciro in Mergellina, Naples. We're here today to present you the dough for a "graffa". The ingredients for the graffa are: pastry white flour, salt, sugar, yeast, vanillin, butter, eggs, water. Let's now create the dough: white flour, sugar, salt, vanillin. Yeast, butter, eggs. Let's pour a part of the water and add the second half during the kneading. Once we poured all of the ingredients in our stand mixer, we're making it turn at a slow speed. Once we added the second part of the water, after 15 minutes, we're removing it from the stand mixer, rounding it and giving the dough the time to stand on the counter for 15 to 20 minutes, the time it needs to soften, covering it with a cellophane bag. Let's proceed to the next phase: preparing the graffe. After letting our dough stand, let's take some flour and sprinkle it on a tray to place our graffe. Let's sprinkle flour just enough to prevent sticking when it's time to fry. Let's create our graffe. We'll have to cut at least a small piece of about 100 gr for each graffa.