Developer Update | Happy First Anniversary! | Overwatch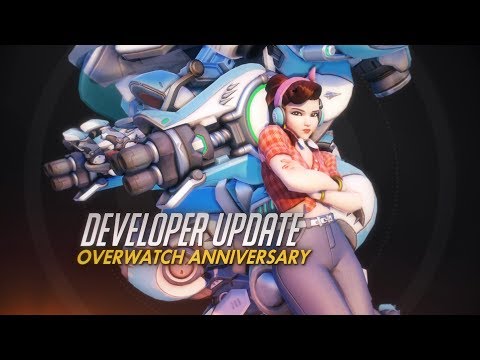 PRESS TO DOWNLOAD:
— Handwritten subtitles
— Generated subtitles
Start Reading:
Welcome to today's Developer Update. I'm Jeff, from the Overwatch Team. This is a very exciting one. Because on May 23rd, 2016, we launched Overwatch. And we really didn't know what the what the reception was going to be like. And it was absolutely amazing. We are so fortunate here at Blizzard that so many of you came along for the ride and not only played Overwatch but fell in love with it like we fell in love with it and you guys really made this game your own and now this universe belongs to you. So, in order to celebrate the anniversary of Overwatch we will be having our Overwatch Anniversary Event. I think there's going to be a lot of cool stuff for many of you, for different reasons. First off, there's going to be an Anniversary-specific loot box that has some of the most amazing items we've made to date. For example, Hanzo mains have been asking us for new Hanzo legendary skins. And there's a really great one in here. We hope you enjoy it. Same with Zarya mains. We've heard a lot of talk about wanting a new Zarya skin.