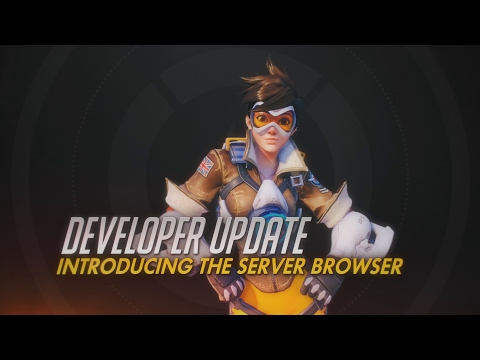 PRESS TO DOWNLOAD:
— Handwritten subtitles
— Generated subtitles
Start Reading:
Welcome everybody to another Developer Update. I'm Jeff from the Overwatch team. We're really excited about today's Dev Update, because we're going to talk about a feature that we mentioned at BlizzCon, and we're finally introducing to you guys. And that feature is the Server Browser. So to start, not everybody knows what a server browser is. A lot of you who played shooters back in the 90s and early 2000s know exactly what a server browser is, but it's a really cool feature where people can run custom versions of the game and then other people can find that game in a public list and then join it. So, we are adding a server browser that's going to list all the custom games running in your region. And what region means is: if you have your region is set to Americas, or Asia, or Europe, you will see all of the custom games that are set to public in that region. And there's all sorts of sorting and filtering options to help you find exactly what kind of game you're looking for. So, if you know ahead of time that you want to play a certain mode only, or if you really want to find a certain map because that's what you want to play on right now, you can search the Server Browser for that particular map and get right to it.