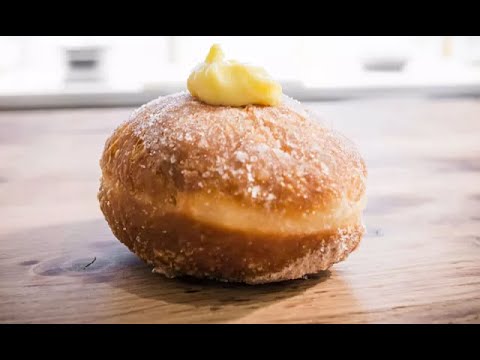 PRESS TO DOWNLOAD:
— Handwritten subtitles
— Generated subtitles
Start Reading:
Hi, I'm Gino, responsible of pastry and baking in Niko Romito's Reale restaurant. Today we're making a "fried bomb". The ingredients for this recipe are: Caputo enriched flour, salt, dried yeast egg, lard, and sugar. And finally, water. For the custard cream: milk, egg, corn starch and sugar. Let's start by making our cream. Let's heat the milk. In the meantime, let's make our eggs. Let's put the yolk in the sugar. Let's first mix yolks and sugar until obtaining a homogeneous dough. And then we're sifting corn starch in our dough so to avoid possible clumps. Let's combine our dough well. As the milk boils, let's pour all of the warm milk in the dough. Let's combine the ingredients well. When the ingredients are well combined, we're placing them on the flame and cook our cream. When our cream is ready, we're cooling it down. When it's cold, we're putting it in the pastry bag. We're adding all of the ingredients in the flour. eggs, lard, sugar, and dried yeast, while the salt and a part of the water is kept to be used later.