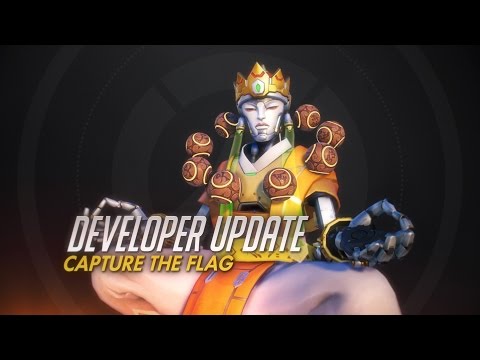 PRESS TO DOWNLOAD:
— Handwritten subtitles
— Generated subtitles
Start Reading:
Greetings, everyone. I'm Jeff from the Overwatch team. We're here with the developer update about Overwatch Year of the Rooster. In particular, we're really excited to talk about the new brawl that we added, which we named "Capture the Rooster." So, as you guys know, we have a tendency to name things just a little bit differently what you're used to. Obviously, "Capture the Rooster" is our version of Capture the Flag and Capture the Flag is a really interesting topic for us to discuss because it's something we mentioned in the past as having had a lot of trouble with when it comes to tuning and balancing around Overwatch heroes. So, to give you guys a little bit of history with Capture the Flag we started working on it before the game was even announced. We would do various prototypes of different game modes and see if we can make it work. What we generally have found with Overwatch over the years, is that the game works best when we have a single objective gamemode type. And if you think about Control, Assault, our Hybrids our Payloads, they all have one objective.