Experienced Van Builder Creates Masterpiece (4k) | Van tour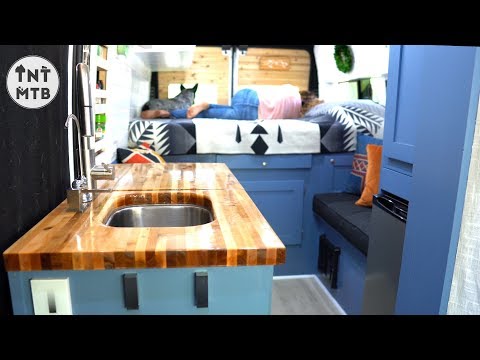 PRESS TO DOWNLOAD:
— Handwritten subtitles
— Generated subtitles
Start Reading:
Hey, what's up guys? Welcome to our van tour. I'm Trent. I'm Ally and together. We are TNT MTV Together so we really learned from the first fan and what we liked and what we wanted to change made a bunch of modifications You can check out our first van tour of the other vans layout which was totally different. We'll have a link somewhere After living in that van, we realized we're gonna do this full-time We wanted something a little bit bigger something that we could put the bikes inside the vehicle for a little bit extra security so now we've got Pamela van der suits the biggest Promaster they make 3500 Extended one hundred and fifty nine inch wheelbase This fan is meant to accommodate full-time living in four seasons doing multiple different types of recreational activities and Also being able to accommodate working professionally full-time as well won't y'all come inside and take a look around This is the cab of the Promaster if you've been in any of the pro masters, or see any of the videos If you check out our old tour of the video They're all the same They might have one feature here and there this one's got like cruise control, which is pretty important they all have defrosting mirrors these mirrors don't power fold, but it's a Pretty nice cab.