Developer Update | Deathmatch | Overwatch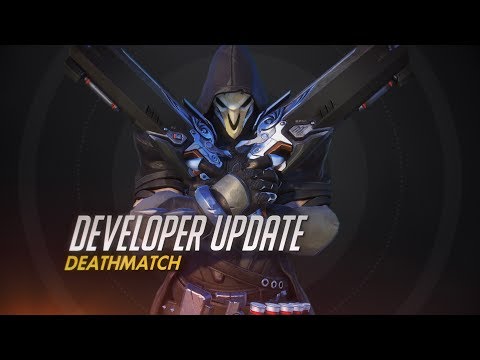 PRESS TO DOWNLOAD:
— Handwritten subtitles
— Generated subtitles
Start Reading:
Good morning, everyone! This is Jeff from the Overwatch team. We're here with another Developer Update. So, one of the things we see you ask for the most is new game modes. And, now, I remember back at BlizzCon, I think it was last year, I was once asked: "Are you guys ever gonna do Deathmatch?" And the answer at the time was "no." We just didn't think it was right for the game. Our thought was that, in both Quick Play and Competitive Play, we always wanted teams focused on objective-based combat, and not off kind of doing their own thing. Well, things have changed. We introduced the Arcade last year, and it's been a really big success for us. But, the coolest part of the Arcade is it's opened up our ability as developers to introduce game modes to you guys that wouldn't normally feel comfortable putting in the Quick Play or Competitive rotation. So, therefore, the exciting announcement is that Deathmatch is coming soon to the Arcade. And I think you guys are going to really love it. So, for those of you who don't know what Deathmatch is, it's probably one of the oldest forms of FPS gameplay, where the simple goal is to see how many kills you can get on the scoreboard.