Pasta e Fagioli - Marianna Vitale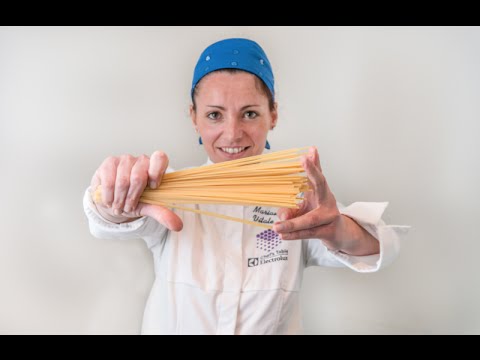 PRESS TO DOWNLOAD:
— Handwritten subtitles
— Generated subtitles
Start Reading:
Hi everybody, I'm Marianna Vitale and we're at SUD restaurant. I'm going to show you the recipe for traditional Pasta e Fagioli, Pasta and Beans. We selected a variety of beans from Campania, adding grated ginger, mint and basil. Let's start introducing the ingredients: the first bean is cannellini, followed by tondini beans, much smaller. Lastly, a traditional little-known bean from Campania, formella beans. Pork lard, tomato puree, spaghetti that we'll be breaking-up later, garlic, spring onions , ginger, basil and mint. We'll begin sautéing a mixture of grated garlic and ginger. Then we can start preparing our finely minced lardo. Let's go on mincing the lardo until it has a creamy consistency. To finish the dish, let's prepare the basil and mint by cutting them into julienne strips. And the spring onion. The pasta is almost ready. First, some olive oil and then add the chopped lardo. Next add the tomatoes and beans. Now that it's hot, let's add water, as much as is needed for the pasta. Let's add some salt and wait until it boils. Now it's boiling, put in the pasta.