Bright Leaf Hot Dogs | NC Now | UNC-TV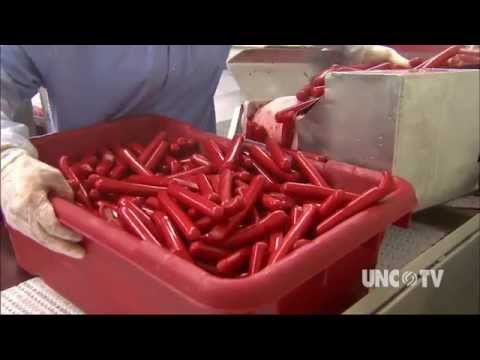 PRESS TO DOWNLOAD:
— Handwritten subtitles
— Generated subtitles
Start Reading:
>> BRIGHT LEAF HOT DOGS WERE PREFERRED OVER OSCAR MAYER IN A TASTE TEST AMONG 150 NEW YORKERS. BUT MOSTLY THEY'RE MADE, SOLD, AND LOVINGLY CONSUMED PRIMARILY IN NORTH CAROLINA'S COASTAL PLAIN AND THE EASTERN HALF OF THE PIEDMONT, AS THEY HAVE BEEN SINCE 1941. >> IT'S JUST A CULT-LIKE FOLLOWING. AND WE'VE GOT GREAT CUSTOMERS, YOU KNOW, FROM -- FROM -- WE ACTUALLY SELL FROM GREENSBORO TO THE COAST. BUT IT'S AMAZING WHAT PEOPLE GREW UP ON AS A CHILD. I GREW UP HERE IN SMITHFIELD, AND THAT'S ALL I KNEW WAS A RED BRIGHT LEAF HOT DOG. I DIDN'T KNOW THERE WAS A BROWN HOT DOG TILL I WENT OFF TO COLLEGE. >> MOST ALL HOT DOGS WERE RED IN YEARS PAST. BRIGHT LEAF CONTINUES TO COLOR ITS FRANKS RED WITH A SAFE RED DYE BECAUSE IT'S BECOME SORT OF A TRADEMARK. BUT WHAT ELSE MAKES THESE PARTICULAR HOT DOGS SO POPULAR? >> A BRIGHT LEAF HOT DOG IS TRULY AN OLD-FASHIONED HOT DOG. IT'S MADE THE WAY PEOPLE USED TO MAKE HOT DOGS 25 OR 30 YEARS AGO. IT'S MADE WITH BEEF AND PORK. BEEF GIVES IT A LITTLE BIT STRONGER FLAVOR.