CysterWigs Wig Review: Minka by Jon Renau, Color: FS613/24B (Honey Syrup)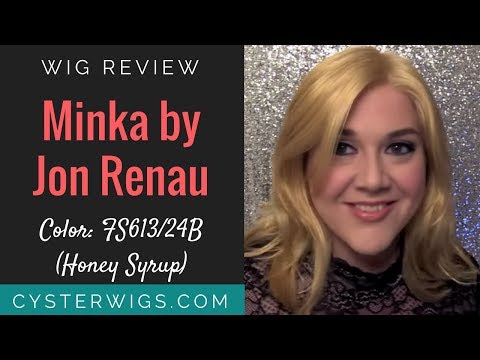 PRESS TO DOWNLOAD:
— Handwritten subtitles
— Generated subtitles
Start Reading:
- Hi there wig lover! This is Heather from CysterWigs.com and today I bring you a review of the Minka wig by Jon Renau in the color FS613/24B also known as Honey Syrup. Before I do anything let me go ahead and do a 360 on Minka so you can kinda see how she's laid out because I don't want you to get this one confused with Gigi because they have kind of similar model pics. (gentle electronic music) Layering on this, and make no mistake about it, this is basically like a really laid back sort of shag cut. She's got lots and lots of layering. This big open heavily deconstructed, sort of sloppy wave pattern thrown into it. Those two things coupled are really lovely, really kind of casual cool looking. And as you notice up top here. She's pretty sleek. Like the way that the front is cut, it's very long, it's very feminine. I love this little thing they've got going on the sides here where it kind of goes in and hugs the face with the sort of S pattern. That's really beautiful. And I also love how this sort of cups the jaw in these front most layers.