2015-2017 Mustang EcoBoost Magnaflow Exhaust Sound Clip Competition Axle-Back Review & Install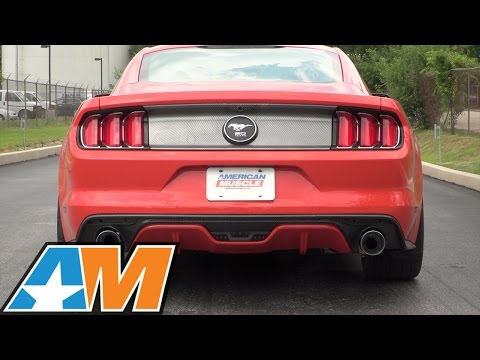 PRESS TO DOWNLOAD:
— Handwritten subtitles
— Generated subtitles
Start Reading:
What's up, guys? Stephanie with AmericanMuscle.com, and this is my review of the Magnaflow Competition Axle-Back Exhaust fitting 2015 and up EcoBoost Mustangs. The Magnaflow Competition Axle-Back is going to be a good option for the S550 EcoBoost owners out there that are looking for a deep sound and a smooth exhaust tone. I wouldn't call the system quiet, but it's not wild, either. So it's a perfect option for those of you out there looking for something that's in between. It's not a loud and raspy system but it does give a smooth sound to even the EcoBoost which helps to get the sound away from the four-cylinder turbo sound. It's still there, but it's not as import-sounding as a lot of other systems are. This is a full stainless steel axle-back and of course it's mandrel-bent. It's a two and a half inch system with four and a half inch polished stainless steel tips out back as well. The axle-back is designed to be more free flowing and it reduces a little bit of back pressure, and the mufflers are also straight-through muffler design. I always say this but stainless steel's always a great option for the cars that see all different types of road conditions because it offers great corrosion resistance.