Dwight Eisenhower | Wikipedia audio article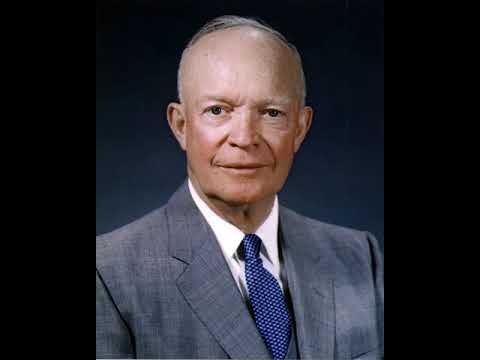 PRESS TO DOWNLOAD:
— Handwritten subtitles
— Generated subtitles
Start Reading:
Dwight David "Ike" Eisenhower ( EYE-zən-how-ər; October 14, 1890 – March 28, 1969) was an American army general and statesman who served as the 34th President of the United States from 1953 to 1961. During World War II, he was a five-star general in the United States Army and served as Supreme Commander of the Allied Expeditionary Forces in Europe. He was responsible for planning and supervising the invasion of North Africa in Operation Torch in 1942–43 and the successful invasion of France and Germany in 1944–45 from the Western Front. Born David Dwight Eisenhower in Denison, Texas, he was raised in Kansas in a large family of mostly Pennsylvania Dutch ancestry. His family had a strong religious background. His mother was born a Lutheran, married as a River Brethren, and later became a Jehovah's Witness. Even so, Eisenhower did not belong to any organized church until 1952. He cited constant relocation during his military career as one reason. He graduated from West Point in 1915 and later married Mamie Doud, with whom he had two sons. During World War I, he was denied a request to serve in Europe and instead commanded a unit that trained tank crews.