189th Knowledge Seekers Workshop Sept 14th, 2017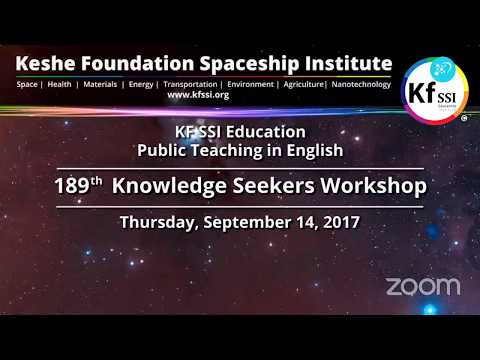 PRESS TO DOWNLOAD:
— Handwritten subtitles
— Generated subtitles
Start Reading:
The Keshe Foundation, an independent, non-profit, non-religious, space-based organization founded by nuclear engineer Mehran Tavakoli Keshe is introducing to humanity the Science of the Universe, Plasma Science Keshe Foundation develops universal knowledge and space technologies that provide solutions to major global problems, revolutionizing Agriculture, Health, Energy, Transportation, Materials, and more. The application of Plasma Science in the form of specially developed Plasma reactors and other devices, will give humanity the real freedom to travel in deep space. Plasma Science exists throughout the whole Universe. It is here and it belongs to you. Our knowledge, research and development regarding the Plasma structure has progressed to the point of enabling everyone to participate in the process. Become a creator and understand the work of the Universe for the good of humankind on this planet, as well as in space! The use of MaGravs, Nanomaterials, GANS, Liquid Plasma, Field Plasma and other Plasma technologies have come as a new dawn for humanity to progress and work in harmony with the Universe. Conventional technology applications are wasteful, damaging and cause pollution to the planet and all living beings. Plasma Science provides solutions and improves existing methods and use of resources in all aspects that touch the lives of all beings.