How to Repair a Vehicle A/C Leak with R134a Super Seal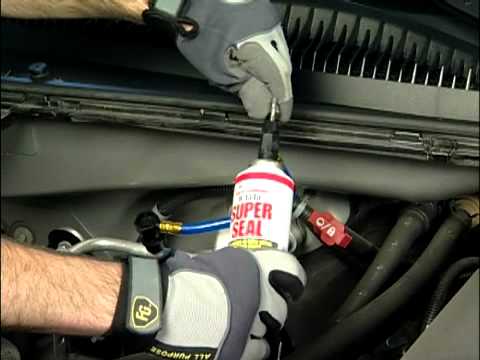 PRESS TO DOWNLOAD:
— Handwritten subtitles
— Generated subtitles
Start Reading:
Narrator: Over time, a vehicle's air conditioning system is subject to extreme conditions. This can cause refrigerant to leak, resulting in poor A/C performance. Super Seal A/C Metal and Rubber Repair Kit can help bring back the cold air, without complicated and expensive professional repair. Refrigerant loss in an air conditioning system can be caused by leaking rubber parts, such as hoses, O-rings, and gaskets. Or, it may result from small leaks that can develop in metal parts or connections, including the evaporator, or the condenser, accumulator, or receiver drier. Super Seal Metal and Rubber Repair Kit from IDQ is formulated with special sealers and conditioners, to seal common rubber leaks. A moisture activated chemical forms a patch to repair metal A/C components and a drying agent eliminates residual moisture inside the A/C system. Super Seal is safe to use, and has been used in more than a million vehicles. Super Seal tackles most A/C rubber and metal leaks. Larger leaks, where the refrigerant is lost within two weeks of recharging, may require professional repair and component replacement. To use Super Seal, always remember to first wear safety glasses and gloves.